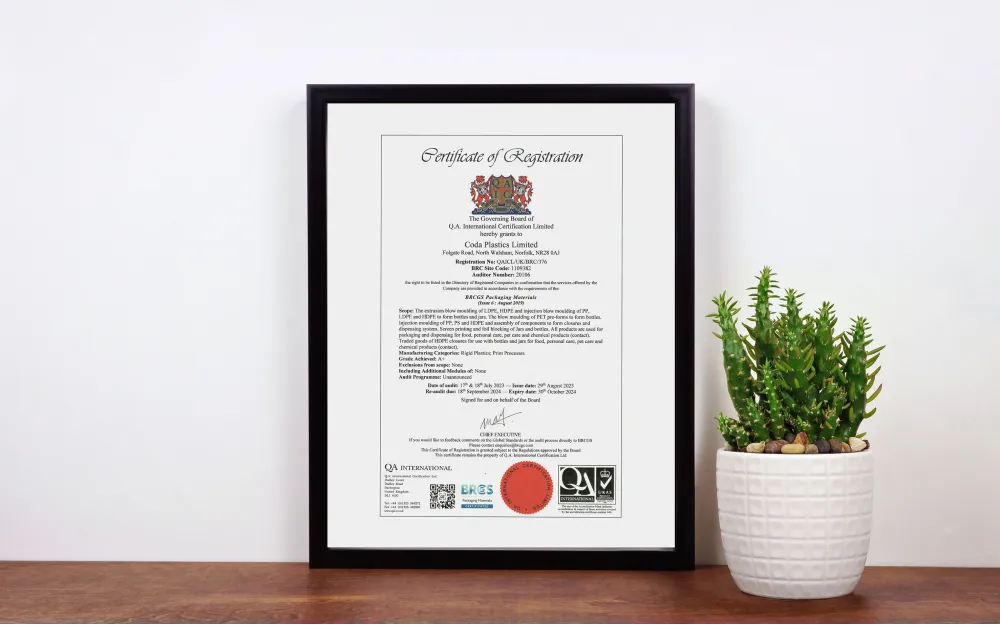 We are delighted to announce that Coda Plastics Ltd has passed its recent unannounced audit with flying colours, achieving an A+ rating from the BRCGS for Global Standard for Packaging Materials. This is a major achievement, and it is testament to the hard work and dedication that our team put in on every single work day.
The BRCGS is an independent organisation that sets global standards for food safety and quality. The Global Standard for Packaging Materials is designed to ensure that packaging materials (including packaging materials that may be used for food or all other types of applications) are safe, fit for purpose, and manufactured to the highest standards. The BRCGS Packaging Materials Global Standard helps us demonstrate we are providing products that are quality assured, legally compliant, and authentic.
The A+ rating indicates that Coda Plastics met nearly all of the requirements of the standard on a random day selected by BRCGS for the unannounced audit. This is a significant accomplishment, and it demonstrates our commitment to providing our customers with the highest quality packaging materials.
The unannounced audit was conducted by an independent auditor who assessed our facilities, procedures, and practices. They were particularly impressed with our commitment to food safety, our robust quality control system, and our ongoing training and development programs.
We are proud to have achieved this outstanding rating, and we are committed to maintaining our high standards of quality and safety. If you are looking for a reliable, safe, and hygienic plastics manufacturer, please contact Coda Plastics today to learn more about our products and services.