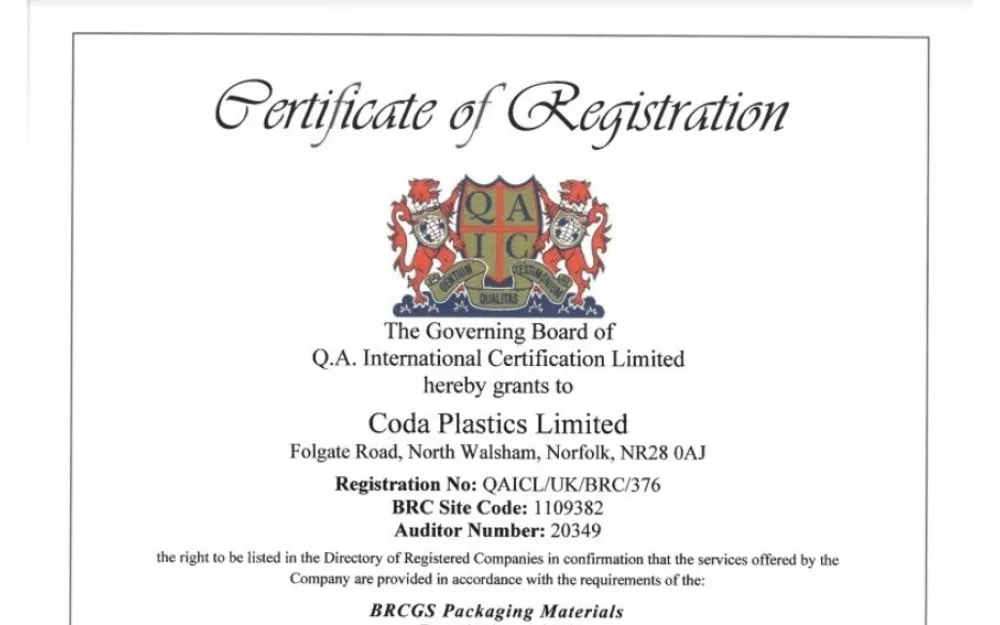 Coda Plastics Ltd is pleased to announce that we have been awarded "AA" Grade on the internationally recognised BRCGS Global Standard for Packaging Materials.
Coda Plastics Ltd is regularly audited by third party inspectors to ensure that our strict standards are maintained. Being awarded "AA" status is a recognition of the quality of our state-of-the-art facilities, manufacturing practices, our high hygiene standards and management systems processes, ensuring quality, safety and compliance of our products to the highest of standards.
Being BRCGS Certified is a benefit to Coda Plastics Ltd and our clients, instilling trust in the progression of new products from inception, design and manufacturing through to final delivery.
The BRC Global Standard for Packaging Materials is a certification that confirms high standard of work practices at all levels to ensure quality and safety of products. The worldwide recognised standard gives confidence to our brand partners and supply chain network as well as the end consumer.
A big thank you to our team for their continued hard work and dedication which saw us pass the assessment with flying colours!
Are you looking for a UK supplier with exceptional standards and facilities? Get in touch with our sales team on 01692 501020 or email sales@coda-plastics.co.uk
Download our BRC certificate of registration here.